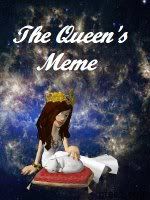 Mimi of
The Queen's Meme
has sent this in....
Reporting live from the shores of the Atlantic, we have The Queen's Meme #47.
Welcome to my beach castle.
Did you think I'd go away again and forget to post these questions? Not likely. Ahem. Well...I did that once but that's beside the point. Here I am with sand in my flip flops and a new set of questions for you. It's called the "If I Could Say Just One Thing'. If you could say just one thing to the so-and-sos of the world and in your life what would you say?
Don't think about it too much. Just write the first thing that pops in to your head. It doesn't have to be just one word.
If I could say just one thing to.......
1. Mel Gibson
"Can someone please put some duct tape on him?"
2. Lindsay Lohan
"Dhe probably thinks the orange outfit could be a great fashion item
."
3. Chelsea Clinton
"Chelsea, tell youe Dad, please leave the bridesmaids alone!"
4. The Pope
"How did you get elected?"
5. BP Oil Company
"This sure is a slick company."
6. My ex
"You missed your chance."
7. My IPOD or computer
"Now this the time to cease functioning."
8. My favorite or least favorite teacher
"Now see how he has turned out!"
9. My family "
Do you know what a meme is"
10. My blog (What? You don't talk to your blog?)
"Give me some inspiration!"
Now if you'll excuse me, I have to finish building my sandcastle.
See you soon on Mimi Writes with more pencil skirt beach reporting.
Have fun with the meme.
And pass the sunscreen......