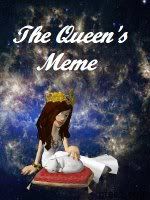 Mimi of
The Queen's Meme
has sent this in....
Welcome To The Queen's Meme #100!!!!
The Centennial Meme
We're 100 today! Happy birthday to us! In honor of all things that can be multiplied by ten, we'd like to invite you to our birthday party. Gifts and all handsome men welcome... not necessarily in that order.
Let's party!
1. Ten x Ten = 100. What thing or person or experience in your life would you like to multiply by 10?
My savings or the best days in my life.
2. Today you get to go shopping with a one hundred dollar bill. What will you buy?
Nowadays not a lot, as it doesn't buy much. Come to think of it, it couldn't buy anything as it's not legal tender here in Britain.
3. How many centenarians do you know or have you ever known one?
I don't think many last long around where I am!
4. Have you ever weighed 100 pounds?
A 100 pounds of what?
5. The "First One Hundred Days" is the benchmark of performance for a United States President. Tell us what you accomplished in your first one hundred days of blogging
. The biggest accomplishment was that someone actually wanted to read what I was blogging and commented.
6. What is the secret to longevity?
Hey! I'm not the wise old man on top of the mountain whom people visit to find out the meaning of life!
7. You are invited to The Queen of Memes 100th Meme birthday party! We are going to play Pin The Tail On the Blog. Blindfold yourself and pick a blog that you enjoy reading and tell us about it. No need to throw darts dripping with sarcasm (I so despise mean-spirited blogs and you will end up in the dungeon - not that any of YOU would of course just sayin'.....gosh, being 100 sure made me fiesty tonight!) It's been a long day and I've seen some crazy blug-slinging lately. (That's blog+ mud +sludge for all you non-blog speakers) I digress. That's a post for another day... Just give someone the gift of recognition they deserve. There are lots of wonderful blogs out there. Who would you recommend?
http://www.mouseski.com/
I recommend 'Are We There Yet' It's a fine blog run by my friend Linda. She travels around, takes spectacular photos and also tells us about her two daughters. Take a look.