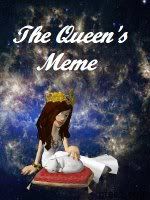 Mimi of
The Queen's Meme
has sent this in....
Welcome to The Queen's Meme
7 Royal Questions on Tuesday
#80 The Royal Wedding Pain Meme
I am grumpy because I've not received an invitation from Prince William and Kate Middleton to attend their upcoming nuptials in London. I'm sure it's been lost in the mail but that doesn't ease my anxiety. If it doesn't arrive soon I'll be forced to crash the event and that would be most undignified indeed - even for me! And since I'm being a royal pain in the patootie today, you may replace any of the questions you don't like with a new question. Just humor me.
Please.
1. If you received an invitation to the Royal Wedding, who would you take with you and why?
Someone who had a doubled-barrelled name. Only they get in the door.
2. If the Prince and his fiancee had a blog, what would the title be?
Waity Katy & Wiils
3. Are you going to watch The Royal Wedding between Prince William and Catherine "Kate" Middleton this week?
Not from beginning to end, but I'll be dropping in like an uninvited guest.
4. Imagine you only have $5.00 and you must buy a wedding gift for them. What would you buy?
One of the atrocious souveniers that are on offer.
5. What day-to-day marital advice would you give the couple?
Think of all your relatives, and dom't do what they did.
Prince William seen here with his father, Prince Charles, as William is installed as a Knight of The Garter.
What other woman can say she has a man with those credentials, huh?
6. You have been employed as the caterer for the reception at Buckingham Palace.
What are you serving?
A finger buffet with hot dogs
7. This is the Royal Wedding Route from Buckingham Palace to Westminster Abbey. What location is missing? You must add a location along the way that you feel is a must stop for the couple before they get married.
The local pub and the pharmacy.
I'll see you there!
I hope.