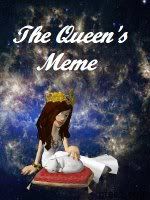 Mimi of
The Queen's Meme
has sent this in....
Welcome to The Queen's Meme #52
It's called The Meet Up Meme
I've given you 10 common places where "meeting" is the game plan. Simply answer the questions about your meet and greet habits. And don't be late for the meeting!
I have a dungeon you know.
And I know how to use it.
You are going to a....
1. Business meeting
Do you prefer a structured agenda with a time frame or a fly-by-the-seat-of-your-pants brainstorming session?
I prefer one with lots of coffee and food
2. First Date meeting
Where are we going and what are we going to do? (Yes, I said you!)
We can go to a beautiful restraurant where I can get you drunk and....where have you gone?
3. Coffee House with your best friend
Do you prefer a collegiate bookstore atmosphere with coffee and WiFi or a fancy restaurant with a beautiful display of expensive desserts?
Oh. And what is your favorite coffee flavor? Oh yes a coffee house with wifi so I can cherck my e mails at the same time as listening to my friend. I think I like instant coffee best!
4. Bar/Pub with friends
What is your poison?
Arsenic, deadly nightshade? Some drinks in those places are pretty near that anyway
5. Your old high school for a 25 yr. reunion
Who would you like to see the most after all these years?
Someone who hasn't done as well as me.
6. Blogger meet up
What is your fantasy blog meet up with your favorite bloggers?
Where would you go and what would you do? A big party where my blogfriends from all around the world could meet up.
7. Google Search Bar
What are you searching for today?
The word 'google'
8. Your favorite tattoo artist at the parlor
What is your next tattoo going to be and why?
A large multicoloured fantasy warrior woman...why not!
9. AA or Al Anon Meeting
You are the designated driver to this function. What advice would you give a room full of folks who desperately need inspiration?
The drinks are on me.
10. An video podcast meeting with your mother or significant other who doesn't know about your blog
Tell us how you would introduce them to the blog that is you.
"Well you know that blog which you said a person would have to be really weird to write that.? Well I'm the writer!