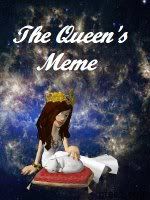 Mimi of
The Queen's Meme
has sent this in....
Welcome to The Queen's Meme #42 ~ We're going to the beach!
Sometimes silly.
Sometimes serious.
Always fun!
Step out of the box.
Be creative.
Use your imagination.
No one's answers are quite like yours
I apologize for the lateness of this meme posting. I was shopping for a bathing suit. I kid you not. More on that later. Right now....let's hit the beach.
#42 The Beach Meme
1. When is the last time you saw the ocean?
I live right in the centre of England, so I'd need a pretty big telescope to see it! I think it must have been a couple of years.
2. Where is your favorite stretch of beach shoreline?
I do like Torbay on the south coast of England, but the South of France looks super/
3. Are you planning a beach vacation this year?
I don't think so, but then again, nothing runs to schedule.
4. Bikinis or one-piece? I must say,
I just wouldn't look good in a bikini!
5. Do you sunbathe or sit under an umbrella?
I don't like lying out in the sun very much at all. best to stay under a parasol. Being pale is cool nowadays!
6. Have you ever been to a nude beach?
I accidentally strayed on to one some years ago in Brighton. There was a sign in front which said 'clothing optional beyond this point'. I looked ahead and a girl came out of the ocean wearing nothing but her birthday suit!
7. Favorite activity at the beach while on vacation?
Watching other people
8. Condo, hotel or cottage rental?
Definately hotel. That way I get all my meals without a problem.
9. What beach in the whole wide world would you like to visit for the first time?
Copacabana beach in Rio, with the statue of Christ the Redeemer overlooking.
10. Did you ever have a special romantic time at the beach?
No...sand can get everywhere!
11. Tell us about a favorite beach memory.
I think we'll go back to #6 for that one!