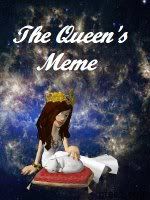 Mimi of
The Queen's Meme
has sent this in....
Welcome to the Queen's Tuesday Meme #32
Sometimes silly.
Sometimes serious.
Always fun!
Step out of the box.
Be creative.
Use your imagination.
No one's answers are quite like you
Easter has come and gone. But I'll bet you have stories to tell! We present: The Peep Peep Meme. I feel a sugar rush coming on....
1. What does Easter mean to you (if that is not too personal)?
Some people seem to think Easter commemorates the birth of the Easter Bunny. If anyone reading this thinks so, then I'm sorry to spoil your illusion. It's the first holiday in the year when roads get gridlocked....plus thev religious aspect as well.
2. When did you last go on an Easter egg hunt? Did you find anything?
The best time to go on an Easter egg hunt is just before Christmas, which is when all the shops display them for the first time.
3. Your favorite celebrity is dressed up in a bunny outfit and about to jump out of a cake. Who is it?
Nicole Kidman is eggs-ceptional!
4. What is the most unusual thing you've ever done with Easter eggs?
Ate them....what ELSE can you do with them?
5. What's your favorite color of peeps?
Peeps? That is a foreign word to me. Any translators around?
6. Do you believe in the Easter Bunny?
As much as Santa Claus, the Great Pumpkin and trains running on time.
7. Imagine: You are invited to the White House for the annual Easter egg hunt. What surprise should President Obama put in each egg for the kids?
A policy that the parents won't have to pay for?
8. What's your favorite kind of candy to eat at Easter?
Truffle chocolate....I had one yesterday.
9. Have you ever dyed eggs for Easter?
This could be listed under 'useless pursuits'
10. You have just found a genuine Faberge egg (like the one pictured here) worth millions of dollars. Would you keep it or sell it for cash at auction? What would you do with the money?
I think I'd be afraid to keep it in case I dropped it, or if someone made a boiled egg out of it!
11. Do you have an Easter bonnet with all the frills upon it?
Show us a picture of your hat.
An Easter bonnet? Can you imagine me with an Easter bonnet? On second thoughts, don't.
12. Please share any special Easter memories or traditions you have with us.
I remember an Easter we threw everything in the car and stayed in a caravan. The weather was just right, and the roads were not gridlocked. A very rare time!