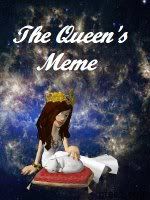 Mimi of
The Queen's Meme
has sent this in....
Spring has flung and fling has sprung. It is time to put your imaginary hat on and step outside the box into the world of fantasy. Spring! Love! Lust! Pheremones! Broken hearts! Dares! Parties! Beaches! Trips! The world of flinging! Ahh....the romance. Ahhh...the migraines.
Webster's defines a spring fling as: a short period of unrestrained pursuit of one's wishes or desires.
The Spring Fling Meme
(The Lovers Dance)
1. Tell us about the your latest spring fling.
My fling has flung, sadly. Maybe it's somefling in the air?
2. What made your fling so special? OR what made it so bad?
The worst flings are non-existant ones..an unflung fling.
3. Have you ever been flung on vacation?
Ah, vacations, that's the time when we meet new people, rhey meet us...
4. All current serious relationships aside, what would be your fantasy spring fling?
Come on. You can tell us. We won't tell your significant other. Maybe.
5. How long did your spring fling last? (either the one in your head or the one in your bed)
A spring fling should last at least 12 months until the next one!
6. Is there a blogger you'd like to fling for spring?
Would you tell them?
How could I possibly say? They might read it. Mimi might throw me in the dungeon if she found out!
7. What is the worst thing that could happen during a spring fling?
Absolutely nothing!
8. What constitutues a proper spring fling? ie: Kinds of activities? How will time be spent?
What should spring flingers do? What should they NOT do?
There's a lot of questions here! In spring, flingers should walk barefoot in the meadow to have a picnic and swim on the pond. They should NOT wave to the bull as they pass in the field.
9. If your fling lasts through summer is it still a spring fling?
It's an extended spring fling
10. How do you get out of a spring fling relationship?
Say "Take a hike...the seasons have changed."
Read about the Queen's mysterious fling here.
You didn't think I'd decree this meme without writing the manual first, did you?