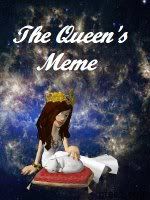 Mimi of
The Queen's Meme
has sent this in....
Welcome to the Queen's Tuesday Meme #29
Sometimes silly.
Sometimes serious.
Always fun!
Step out of the box.
Be creative.
Use your imagination.
No one's answers are quite like yours.
It's not original. It's not my idea. This meme has been around in various forms. Call it whatever you wish. But I thought it would be interesting to make a wish list of things you want to accomplish or do before you ....um....well....die. Cheery, no? Just like the two characters in the 2007 motion picture, The Bucket List, we all have a list in our heads. I'm not sure I've ever actually written mine down. Some I've already crossed off. I think it's time for a fresh new slate of ideas and direction for me. I've been through a lot of change in the last year. And even though the list might change periodically, nevertheless, the task gives me pause.
What AM I doing to push forward those dreams of mine? Maybe it will help if I write them down. And what hinders me from getting them done? That is the bigger question.
The rules: There are none. List as many things as you'd like. Give us your answers in pictures, words or song lyrics. Make it serious or funny. Your choice.
What's on your list?
You don't make these things easy, do you.Mimi? Right, now what should I put on this list??? I know I just don't want to be around when my number's up.
Well let's see what I want to accomplish.....
1 For my 18 year old girlfriend-to-be to say "You were great!"
2: To be able to travel first class everywhere and enjoy life, rather than working during it.
3: To have a fleet of fast cars and Harley bikes ....yeah!!!
4: To meet some top entertainment stars, Nicole Kidman especially!
WHAT I DON'T WANT: The doctor to say "You have two weeks to live, but we should have told you two weeks ago!"