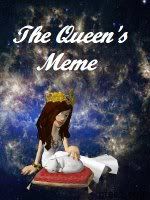 Mimi of
The Queen's Meme
has sent this in....
Welcome to The Queen's Meme
7 Royal Questions on Tuesday
Sometimes strange and silly questions run through my pencil brain. Don't try to look for connections. There are none. Just have fun answering a non-serious set of 7 royal questions. **We would really appreciate a photograph as evidence for question #6**
1. Who should run for United States President in 2012?
Anyone except the one in office.
2. Have you ever gone to a party and snooped in the medicine cabinet?
No....but it's a great idea. Thanks for suggesting it. If I'm caught, I'll blame you.
3. Why are Happy Meals happy?
The staff are happy because of the high cost of the low quality food.
4. Have you ever done the Hokey Pokey
? It's the Hokey Cokey where I am. I tend to be putting my left one in when I should be shaking it all about.
5. What song sticks in your head and drives you crazy?
I hate the song Everybody Wants To Rule The World by Tears For Fears. I switch the radio off when it comes on.
6. Do you dance like crazy around the house when no one is looking?
I might do a little air guitar if a catchy song comes on.
7. Have you ever been involved in a food fight?
Only with the Maitre D' when he wouldn't give us First Sitting on a cruise.