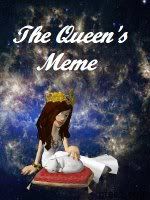 Mimi of
The Queen's Meme
has sent this in....
Welcome to The Queen's Meme #72
I've been on a short hiatus due to illness but glad to be back! Now that I've returned, let's talk about returns. Why not? I'll bet you have a lot to say about that. I know I do!
1. When is the last time you returned a library book?
I think the library have got the bloodhounds and search parties out now. Truthfully, I'm a good returner.
2. Is there anyone you'd like to see return to your life?
My late mother, a former girlfriend. Sigh.
3. Have you finished your income tax return?
Oh, I never do those. Am I supposed to?
4. Do you ever return things to the store for refund, credit or exchange? Have you had a bad experience with customer service over this issue? Tell us your story.
Some stores are all smiles when they sell you something, but return with a problem, and it's like you have leprosy. PC World were a lot of trouble some years ago when we had a dispute with a salesman who claimed something but it wasn't true.
5. You would like to see your favorite movie named
The Return of My Movie Ticket... most great movies cannot do a sequel, with the exception of The Godfather and Terminator
6 Is there something you're still waiting to be returned to you?
A good job. I must have given it to someone!
7. You are in a canyon. On the other side stands your beloved. You stand and shout something to him/her making a large echo. What do you want to hear in return?
I'd probably hear "How did you get yourself stuck in that canyon!"
8. If you could turn back and go in the reverse direction in your life, making things better for yourself and those you love, how would your journey begin?
That's too big a question, as how can I reverse something that has already happened going backwards? It's hardly The Butterfly Effect.