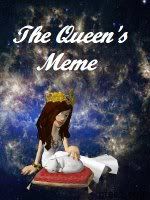 Mimi of
The Queen's Meme
has sent this in....
Welcome to The Queen's Meme #63
Let's talk Christmas. I'm in a naughty and nice mood. Some are one-word answers, others need a little explanation. Feel free to elaborate when the blog spirit moves ya. And above all else...Have fun!
1. Amazon.com or the Mall
Hard work walking from shop to shop? No thanks! Amazon, please!
2. Bows or ribbons
Ribbons
3. Expensive or sale tags
A sales tag of something expensive
4. Long list or short
It's what's on it that counts
5. Wrapped packages or gift bags
Either will do
6. Eggnog or vodka
Yuk! No thanks, especially not together
7. Have you finished your shopping?
Errr.....not quite
8. A Christmas Carol or The Bible Story
They both are a part of the occasion.
9. Are you Scrooge or Santa's Helper?
Humbug!
10. Did you ever catch Santa Claus in the act?
In the act of doing what? Kissing mommy?
11. Tell me about your Christmas tree...gotta pic?
As it's in a cardboard box...not exactly
12. Christmas carols or Rock Station
A bit of both, I suppose
13. Do you believe in Elves?
Well we do have the National Elf Service in Britain.
14. I am looking for Santa. Describe him for me.
Large, white beard, red outfit, might be seen on a roof trying to get down a chimney. He likes reindeer and children.
15. Do you leave cookies out or bourbon?
My dad said bourbon is better
16. White lights or multi-colored
Lots of pretty colours, naturally with one that prevents the others from working
17. Wreaths on the doors, windows, outside?
No one is dead!
18. Who are the 3 wisest wise men in your life?
Why's that?
19. Is Christmas religious or commercial for you?
Yes
20. Ever kiss under the mistletoe?
Oh yes, though many girls tend to run in the opposite direction.
21. Stars or angels on top of the tree
Angel
22. Who deserves to get a lump of coal for Christmas and why?
Perhaps one of the Chilean miners, as a remembrance they are still here.
23. Who is #7 in the 12 Days of Christmas song?
Those ice-cold swans a swimming
24. Snail mail cards or e-cards
The real thing, a snail mail is far better
25. What do you want for Christmas?
All I want for Christmas is my two front teeth (lyrics to an old song)