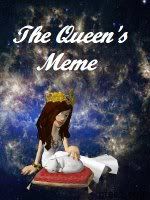 Mimi of
The Queen's Meme
has sent this in....
Welcome to Bloggingham Palace!
The Queen's Tuesday Meme #13 ~ Peaceful Places
Sometimes silly. Sometimes serious. Always fun!
Step out of the box. Be creative. Use your imagination.
No one's answers are quite like yours.
And please, stay out of the dungeon.
You don't want to go there.
The Queen's Peace Meme
I have been inundated with peace this week as I read through the huge list of peace posts from the BlogBlast For Peace last Thursday. Be patient. I will get to yours yet! It's good for me to savor the words and images I'm seeing as I seek my way through the healing process. After a rather intense couple of months, I'm enjoying a slow pot of coffee and a warm fire in Bloggingham Palace tonight. I could use some quiet time. It's a perfect time to talk about peace.
1. How do you find your own personal peace/nirvana?
Get one of my favourite films from my DVD collection, sit back in my recliner....nirvana time! Woe betide any interruptions!
2. Where do you go to find respite and solace?
Is there a particular place, city, country, room in your house?
My bedroom is my SANCTUARY, as Quasimodo would say. I do a good impression of Charles Laughton saying "Sanctuary!"
3. Who is the most peace-loving person you know? What makes them so?
My father is a very peaceful type. He is a good mediator. I get livid easilt, easpecially if a neighbour parks across our driveway!
4. What do you do when your inner peace is threatened?
Do you have a strategy, a routine, religious faith, a mantra......to calm yourself down?
I release the steam out of my ears, count to 1,000,000.....THEN go mad!
5. What is your favorite comfort food?
Ahh....lasagna is belissimo!
6. Do you have a pet that brings you happiness and peace? If not, what type of animals bring you peaceful thoughts?
I don't have a pet, but love Minature Schnauzer dogs. I have a calendar with them on. It's a lot easier to maintain and food is cheaper!
7. What is your favorite peace song?
Lot's of favourites here, 'Turn, Turn, Turn', 'The Times They Are A'Changin' and 'Blowing In The Wind'
8. Did you post a peace globe on November 5th and participate in BlogBlast For Peace?
If so, please repost your peace globe here with a link to your peace post so that the Queen's players can enjoy it. If not, join in! It's not too late. Here's how....
Sorry I've been a bad boy here, Mimi. Please don't lock me in the Dungeon......