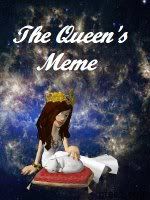 Mimi of
The Queen's Meme
has sent this in....
Welcome to The Queen's Meme #76
7 Royal Questions on Tuesday
The Prissy Meme
Many things have been said about me. Some are true. Some are lies. Some are fair. Some are sinister. But there is one indisputable not-so-secret secret about Yours Truly. I love being a girl.
That is a fact.
I know what you're thinking, guys. You can't possibly do a prissy meme even on threat of dungeon duty. Not to fear. And quite frankly, unless you're a metrosexual and want to talk about yourself, you can still answer this meme about the females in your life. So let's powder up and get on with the makeover.
(**warning** I couldn't stop at 7 questions this week)
1. What is your favorite lipstick color and why?
I must admit that I haven't bought a lot of lipstick, although dark red on a woman looks great.
2. How long does it take you to get ready to go to work in the morning?
If the alarm fails to go off...very quickly!
3. Do you have your nails professionally done? Mani? Pedi?
Scissor.
4. Tell us about your latest spa experience - real or imagined.
The beautiful blonde 20 year old was a gorgeous woman. I lay on the table as she put her fingers on my shoulders.....sadly this was imagined!
5. Is there something you'd like to change about your appearance? Would you ever have cosmetic surgery?
I would be here all day typing that!
6. How do you take care of your skin?
I keep it covering my body.
7. Tell us your secrets for vibrant, shiny, healthy-looking hair.
It's a secret toi me as well.
8. What is your favorite fragrance?
What's that?
9. Everyone has a certain color they love to wear. What is yours?
Right now it's greying!
10. Do you have ink?
How else does my pen work?
11. How would you describe your personal style?
This is me like it or lump it!