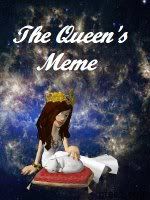 Mimi of
The Queen's Meme
has sent this in....
Welcome to The Queen's Meme #57.
We're talking THREES. Answer these questions all having to do with the number 3. I predict this meme will take about 3 minutes to do.
Of course I could be wrong.
It's been known to happen.
And watch out! Question #3 is a doozy.
3. Where were you 3 hours ago?
In my office slaving over a hot compouter. Now I'm at home slaving over a hot computer,
3. Is there anything pink within 3 feet of you?
My body is!
3. Name the 3 scariest places in the world.
The local gangland area about 5 miles away, North Korea and my office.
3. Name the 3 loveliest sights you've seen lately.
I can't be too specific as they are all women.
3. Name the top 3 Bands in the year you were born. Did cavemen have bands? Seroisly, the year of my birth was a very boring year as far as music was concerned.
Wish it was something like 1967. Now that was a super music year.
3. Walk to your front door. Go outside and get in your car. Drive 3 miles East. Describe 3 things you saw on your way.
Now which way is East?. Am I supposed to have a compass? I might go straight into a building.
3. I, Queen Mimi, have sentenced you to a 3-day diet of your most sinful cravings.
What will you be partaking?
Mature cheese, hot diogs and lasagna...not all together though.
3. Go back to question #3. Change the first word to "travel" and let me know if you survived.
I'll hold a room for you in the dungeon in the meantime.
Well I went to one of them today (my office). I only just survived that one.
3. If you are the 3rd person to do this meme and sign the Mr. Linky as #3 you win a prize! The prize is you don't have to do this meme. Oops. **Don't you know you should always read all the instructions/questions FIRST??**