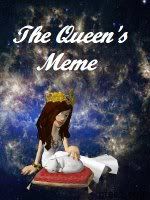 Mimi of
The Queen's Meme
has sent this in....
Welcome to The Queen's Meme #11.
A Tuesday meme
Sometimes silly. Sometimes serious. Always fun!
Step out of the box. Be creative. Use your imagination.
No one's answers are quite like yours.
And please, stay out of the dungeon.
You don't want to go there.
This week the questions are sheer poetry. Nonsensical. Cerebral. Challenging. The answers should be too.
I have given you seven familiar limericks. Your job is to change them by filling in the blanks. Here's an example of a limerick.
There was an Old Man
in a tree,
Who was horribly bored by a Bee;
When they said, 'Does it buzz?'
He replied, 'Yes, it does!'
'It's a regular brute of a Bee!'
Lines 1, 2 & 5 rhyme. Lines 3 & 4 rhyme. You can use more than one word to fill the blank but the end words must rhyme appropriately. Now fill in the blanks with the limericks I've given you. Don't think about them too much. Usually the first word that pops in your head can be used to make a very funny poem. Try it!
1.There was an Old Man of
great age
Who lived upon
eggs in a cage
When that did not
work
He took
the hen, went berserk
That nasty Old Man of
a rage
.
2. There was a Young Lady whose
eyes
Were unique as to color and
size
When she opened them
wide
People all turned
aside
And started away in
great size
.
3. There was a Young Lady of
Wales
Who casually sat on a
nail
When the door squeezed her
arm
She exclaimed,
'I am calm?
'
This courageous Young Lady of
ails
.
4.There was an Old Man with a
rose
Who bumped at it
with his nose
;
But they called out,
'that's bad!
You're a horrid old
cad!'
So they smashed that Old Man with a
hose
5. There was a Young Lady whose
dress
,
Came untied when the birds ate
cress.
But she said: 'I don't care!
All the birds in the
air
Are welcome to sit on my
breast!'
6. There was an Old Man of
the sea,
Who never knew what he should
be
;
So he tore off his
top
,
And behaved like a
mop,
That intrinsic Old Man of great
glee
..
7. There was an Old Man of
Lochnor
,
Who had the most curious
snore
;
For while he was
asleep
,
He slept on a
heap
.
That funny Old Man of
no more
.
Hat tip: Edward Lear
Original limericks are HERE. Don't peek 'til you've finished or it's you-know-where for the likes of you.